According to the company's latest 'Consumers Payments Insight Survey 2017', smartphone penetration (per 100 people) is high among European consumers generally, with values ranging between 56.09 in France and 91.33 in Norway. The survey also confirmed that over half (54.2%) of European non-wallet users said they simply don't like the idea of using their phone to make payments, while 42.8% admitted they don't know where they could make a mobile payment.


Madalina Aghinita, Financial Services Analyst at GlobalData commented, ''There are numerous reasons why consumers choose not to use mobile wallets to pay for their items, including security concerns, lack of knowledge about wallets and where to use them, and simple disinterest or dislike. However if mobile wallets are to leverage their high penetration, they will need to offer consumers more than just a payment service. For example, more than a third of non-users (36%) would use a mobile wallet if it offered loyalty benefits.
'The biggest single reason European consumers don't or have no desire to use wallets is concern over what would happen to their payment details if their phone is lost or stolen (72.2%). There is a lot of insecurity when it comes to using and storing payment details on a smartphone, but this could potentially change if consumers become more aware of the security of wallet apps.''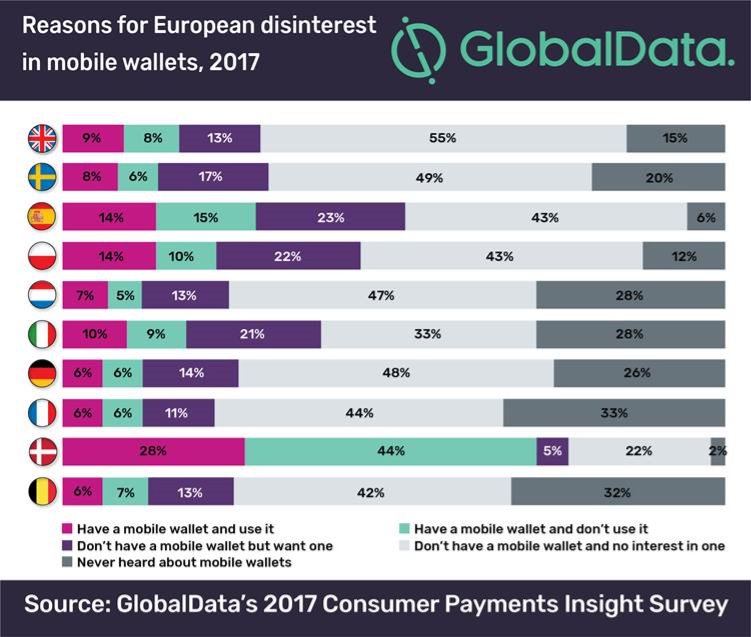 IMAGE FOR PUBLICATION: PLEASE CLICK HERE 'Reasons for European disinterest in mobile wallets'


Contrary to most European markets, Denmark has a significantly higher proportion of mobile wallet users (28%) because MobilePay (a mobile payment solution) has been so well received by consumers and retail businesses. Initially launched as a money transfer app by Danske Bank, MobilePay has expanded to offer other services, including online and offline P2P (peer-to-peer) payments to friends, family, and even merchants.
MobilePay has successfully been integrated into Danish society and is supported by major payments schemes as well as more than 60 trusted bank brands, giving the service a high level of perceived security among consumers. MobilePay initially grew out of a P2P only payment solution and then expanded to become fully integrated in everyday activities like transportation, online and offline shopping, payments to friends and family. This shows that a successful mobile wallet needs to be more than another point of sale solution in order to compete with well-established cards.
Aghinita concludes, "Making mobile wallets more visible to consumers is as important as becoming more widely accepted among retailers. Although mobile wallets provided by banks will generally present more security for consumers, there are various payment and financial services companies that can deliver the same products to similar standards.
'Moreover, mobile wallets shouldn't necessarily specialize into one service (POS payments) but look to offer a variety of extra services which could potentially attract more users.''