Agreement for Digital Content
Escrito por Redacción TNI el 26/08/2014 a las 11:53:34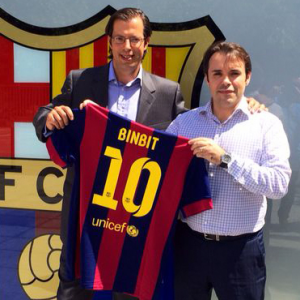 Binbit and FC Barcelona have reached an agreement for the exclusive distribution of content and information of the Club via mobile technology to a total of 40 countries from Latin America, Asia and Eastern Europe over the next three seasons.
Countries included in the exclusive distribution agreement, and who will have access to the best team content via Binbit are: Mexico, Guatemala, Belize, Honduras, Nicaragua, Costa Rica, El Salvador, Panama, Colombia, Venezuela, Peru, Ecuador, Bolivia, Chile, Argentina, Paraguay, Uruguay, the Dominican Republic, Bangladesh, Thailand, Malaysia, Singapore, Hong Kong, the Philippines, Sri Lanka, Serbia, Croatia, Albania, Bosnia, Bulgaria, Macedonia, Montenegro, Slovenia, Poland, Czech Republic, Azerbaijan, Kazakhstan, Tajikistan, Uzbekistan and Kyrgyzstan.
Statements from Dídac Lee, director of the Media and Communication Department, and Antoni Muntaner, founder and President of Binbit.
Didac Lee: "We are very excited about the launch of this project of international digital content distribution. We are committed to the project with Binbit, thanks to its high level of market penetration internationally, particularly in emerging and strategic countries. This has been the key detail for our Club, because we want to provide great service and reach all corners of the world, to meet the needs of our members and fans".
Muntaner: "This agreement will help both companies to generate extra income with the distribution of quality mobile content in these countries. We intend to offer the best Barça content for fans of the team", Muntaner said.
"Through this agreement, Binbit will have the ability to distribute FC Barcelona digital content to mobile devices. This initiative will bring the Barça presence to the most remote fans, thanks to the global reach of Binbit. The company maintains a network of alliances with more than 90 telephone operators worldwide, which allows coverage over the five continents".