One of the more interesting pieces of news from the U.S. Telecom industry recently is the announcement of a merger between Sprint and T-Mobile, respectively the third and fourth largest mobile providers in the country.
At the end of April, the Companies issued a statement announcing plans to merge in an all-stock deal at a rate of 0.10256 T-Mobile shares per Sprint share and 9.75 Sprint shares per T-Mobile share, valuing the combined company – which will operate under the name T-Mobile - at $146 billion.

Assuming the merge passes FCC and regulatory scrutiny, the new company would have a combined total of approximately 127.2 million wireless subscribers, putting it in close proximity to AT&T's 141.6 million subscribers and Verizon's 150.5 million.
But, the prospective merger is by no means a "done deal" and the attempt to do so is also nothing particularly new.
Discussions for the sale of T-Mobile to Sprint in 2014 were halted when it became obvious that regulators would block the deal. Another set of merger negotiations between the companies began in 2016, but came to a close in November of 2017, when agreement between the two was stalemated. Scrutiny of and obtaining approval by Federal anti-trust regulators is a tricky business for such mega-mergers, most notably seen in AT&T's proposed bid for Time Warner.
This time, Companies have designed a strong case for a successful merger, in large part focused on acceleration of a broad and deep nation-wide 5G network – a strategy the new company calls "5G for all."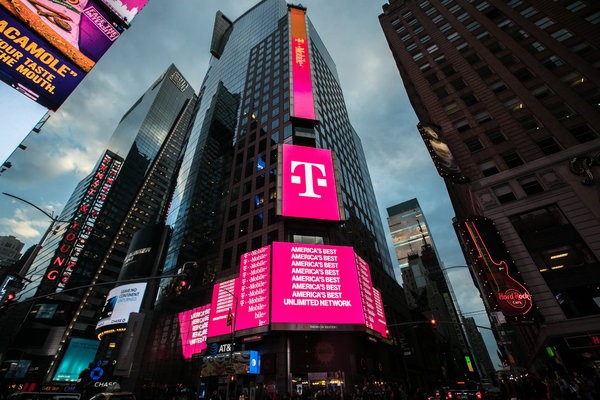 (Image courtesy of The New York Times)
"This isn't a case of going from 4 to 3 wireless companies – there are now at least 7 or 8 big competitors in this converging market. And in 5G, we'll go from 0 to 1. Only the New T-Mobile will have the capacity to deliver real, nationwide 5G," said John Legere, T-Mobiles President and CEO, who will serve as CEO of the new T-Mobile. "As industry lines blur and we enter the 5G era, consumers and businesses need a company with the disruptive culture and capabilities to force positive change on their behalf. We're confident that, once regulators see the compelling benefits, they'll agree this is the right move at the right time for consumers and the country."
"Going from 4G to 5G is like going from black and white to color TV," said Marcelo Claure, Sprints CEO. "It's a seismic shift – one that only the combined company can unlock nationwide to fuel the next wave of mobile innovation. We intend to bring this same competitive disruption as we look to build the world's best 5G network that will make the U.S. a hotbed for innovation and will redefine the way consumers live and work across the U.S., including in rural America."
The Companies further make the point that "5G is expected to create 3 million new U.S. jobs and $500 billion in economic growth by 2024, according to a report from CTIA and the combined company will be a catalyst in driving that massive economic stimulus."
All being said, it will likely be a year or more before the merger actually goes through—if it does at all. T-Mobile and Sprint said they expect the deal to close by the first half of 2019. The Federal Communications Commission and the Justice Department — which will scrutinize the proposal to ensure it protects consumers and competition — declined to comment.
In our view, there is plenty of upside for the approval of the new Company, especially with accelerated 5G rollout, whilst we can only guess at the potential negative ramifications at this point… which might include higher costs to consumers at the expense of reduced competition.
It's going to be interesting to watch how this plays out. Either way the ball bounces, we'll keep you in the loop.