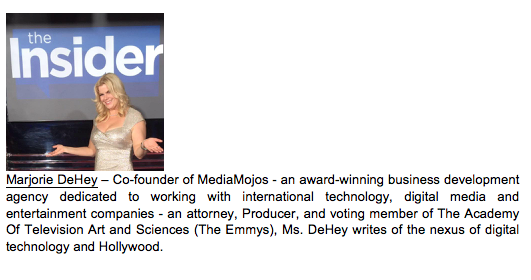 July 13th, 2017 was an exciting day for many producers, directors, actors and technologists as the Television Academy of Arts and Sciences announced the 2017 Emmy® Nominations. The Nominees included many fan favorites such as "Westworld" (22 nominations), "Stranger Things" (18 nominations) and "The Handmaid's Tale" (13 nominations). A few things stood out this year which indicate how technology is influencing the awards and how stories are presented.
First was that over-the-top networks (such as Netflix, Amazon, HULU) saw an unprecedented number of Emmy nominations. While cable and traditional broadcast networks still held the majority of the nominations (with HBO topping the list at 111), Netflix was hot on their tail with an amazing 91 nominations, a true indicator that the way television is being created and consumed has forever changed. According to Variety, Netflix achieved a 70% increase in nominations as compared to 2016, which shows that Netflix's ability to create unique content outside of the traditional TV format continues to impress the industry and Emmy voters.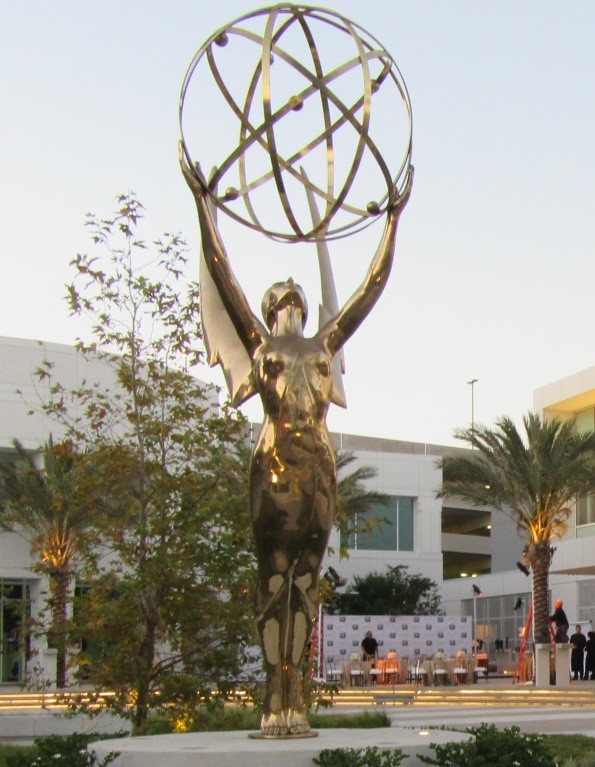 Photograph: Emmy® Statue Outside of The Television Academy of Arts and Sciences
(photo courtesy of Marjorie DeHey; Emmy® is a registered trademark of The Television Academy of Arts and Sciences)
The second thing that stood out from a technologist's perspective was that this is the first year that a Facebook Live broadcast and a Snapchat show received Emmy nominations. Facebook received a nomination for outstanding creative achievement in interactive media within an unscripted program for their Facebook Live Broadcast - "Stand for Rights: A Benefit for the ACLU with Tom Hanks". This nomination is particularly impressive given that Facebook rolled out its Facebook Live feature just over a year ago. Snapchat – yes, Snapchat – received its nomination for "The Voice on Snapchat," which is a companion series for NBC's popular singing competition "The Voice." This Snapchat series shows how broadcasts can use innovative technologies to attract younger audiences to traditional broadcast television.
Third, was the number of Virtual Reality-based submissions. While this year wasn't the first year that Virtual Reality programs were eligible for Emmy consideration, the increase in programs submitted was impressive. The Interactive Media categories give creators a venue to showcase how technology allows them to tell stories in new and compelling ways, or to extend a film or TV brand. For example, if you never have had a chance to visit the International Space Station (who doesn't want to be an astronaut – without all that training?) Oculus and Magnopus created "Mission: ISS," which is a virtual visit to the International Space Station. Or let the Obamas give you a tour of The White House in "The People's House – Inside the White House with Barack and Michelle Obama" (Felix & Paul Studios/Oculus/Samsung).
Virtual Reality also allows fans to experience their favorite shows in new ways. "Stranger Things VR Experience" (Netflix/CBS Digital) challenges fans to survive "Stranger Things" and the experience is well… petrifying. VR allows users to be fully immersed in the scenes of the hit Netflix show, with ringing phones, voices warning you of danger and, oh yeah… a petrifying monster. For those who prefer their VR experience be more humorous, try "The Simpsons' Planet of the Couches" (Gracie Films/ 20th Century Fox/Google Spotlight Stories).
It is exciting to see how technology continues to change television. As VR experiences continue to evolve, will fans be able to play a virtual role as their favorite character? As we walk down the street, will Augmented Reality turn the street into a scene from "Game of Thrones"? Wherever technology is taking viewers, it is notable that the Television Academy of Arts and Sciences is recognizing these technological advances and honoring them.